With a reputation solidified in the arenas of laptops, monitors, and desktop PCs, Acer's venture into the GPU market marked a significant stride, showcased by the Acer Predator BiFrost Intel Arc A770. However, the expansive Acer portfolio does not halt there; it stretches into various other territories including air purification with the Acer Acerpure Air Pro P2, e-mobility with the Acer ebii E-bike, and a foray into networking hardware, evident in the Predator Gaming 5G Router and Acer Wi-Fi 5G Mobile Hotspot. The latest addition to this roster is the Acer Predator Connect W6, a router embracing the new Wi-Fi 6E technology, equipped to navigate the fresh waters of the 6GHz band. This review delves into the various facets of the Acer Predator Connect W6 Wi-Fi 6E Router, assessing its specifications, design, setup process, features, and performance, to provide an exhaustive understanding of what this router brings to the table.
Specifications
The underpinning of any router's capability lies in its specifications, and the Acer Predator Connect W6 is no exception. This tri-band router offers a bandwidth designation termed AXE7800, spread across the 2.4GHz, 5GHz, and 6GHz bands, with maximum throughputs of 600Mbps, 4.8Gbps, and 2.4Gbps respectively. The router employs a 2x4x2 MU-MIMO technology facilitating simultaneous data streaming, coupled with features like Orthogonal Frequency-Division Multiple Access (OFDMA) transmissions, beamforming, 160MHz channel bandwidth, and the robust WPA3 encryption. At its heart, an ARM Quad-Core processor clocked at 2 GHz orchestrates operations, supported by 1 GB DDR4 RAM and 4GB eMMC internal storage. The external facet of the router is adorned by six antennas, and a complement of connectivity ports including a 2.5 Gbps Ethernet WAN/LAN, four 1 Gbps Ethernet LAN, and a USB 3.2 Gen1 Type-A port. In terms of security and advanced features, the router is equipped with WPA, WPA2, WPA3-Personal security protocols, Intel Killer Prioritization Engine, VPN support, and Trend Micro security.
Design and Unboxing
The aesthetics of the Acer Predator Connect W6 are as distinctive as they are functional. Unboxing the router reveals a broad square apparatus measuring approximately 27 cm on each side and 11 cm in height, escorted by six extendable antennas. The chassis is enrobed in a matte black plastic finish, resistant to fingerprint smudges, exuding a sleek yet understated aura. The top of the router hosts a large mesh grille, with the Predator logo nestled beneath it. This logo is not just a visual emblem but serves a practical purpose by housing an LED lighting block that indicates the router's status through colour variations. The router's rear hosts the assortment of connection ports and buttons, providing a streamlined interface for setup and connectivity.
Setup
The setup voyage of the Acer Predator Connect W6 is quite straightforward and user-friendly. Powering on the router triggers a gateway to its interface through a browser using the URL acerconnect.com or IP address 192.168.76.1 or alternatively through the mobile application. The default login credentials are 'admin' for the username and a password delineated on a sticker at the router's base. Once logged in, a quick configuration section unveils itself, offering a plethora of customisation options encompassing WAN connection mode, DNS preferences, and Wi-Fi signal settings. It's prudent to scout for firmware updates to ensure the router operates with the latest enhancements.
Features and Settings
Delving into the features, the Acer Predator Connect W6 unveils a rich trove of capabilities. The router bestows VPN support, network security, Quality of Service (QoS) management, firewall and port forwarding. Notably, the Wi-Fi section permits individual band management concerning channels and bandwidth, albeit lacking a Smart function for SSID unification across bands. It also provides a Guest Wi-Fi option and a distinct Wi-Fi channel for Smart Home/IoT devices. An intriguing feature is the Hybrid QoS, which synergises with Killer NICs using Intel Killer Prioritisation Engine to classify and prioritise traffic, reducing latency. This QoS feature exhibits a discerning eye, identifying various devices in the network and grouping them into priority tiers according to the default setting. This QoS capability extends to non-Killer-enabled devices as well, offering four settings: Extreme for gaming devices, High for streaming, Normal for browsing, and Low for IoT Devices and wearables.
Security Features
Security is an integral aspect of any networking device, and the Acer Predator Connect W6 stands tall with its Trend Micro-powered network security feature. This security suite, available at no extra cost, is a rare gem in a market where many competitors levy additional charges for similar services. The security suite offers malicious sites blocking, network attack blocking, and IoT security protection, which are vital tools in the modern digital landscape to prevent unauthorized access and secure your network environment.
Wi-Fi Performance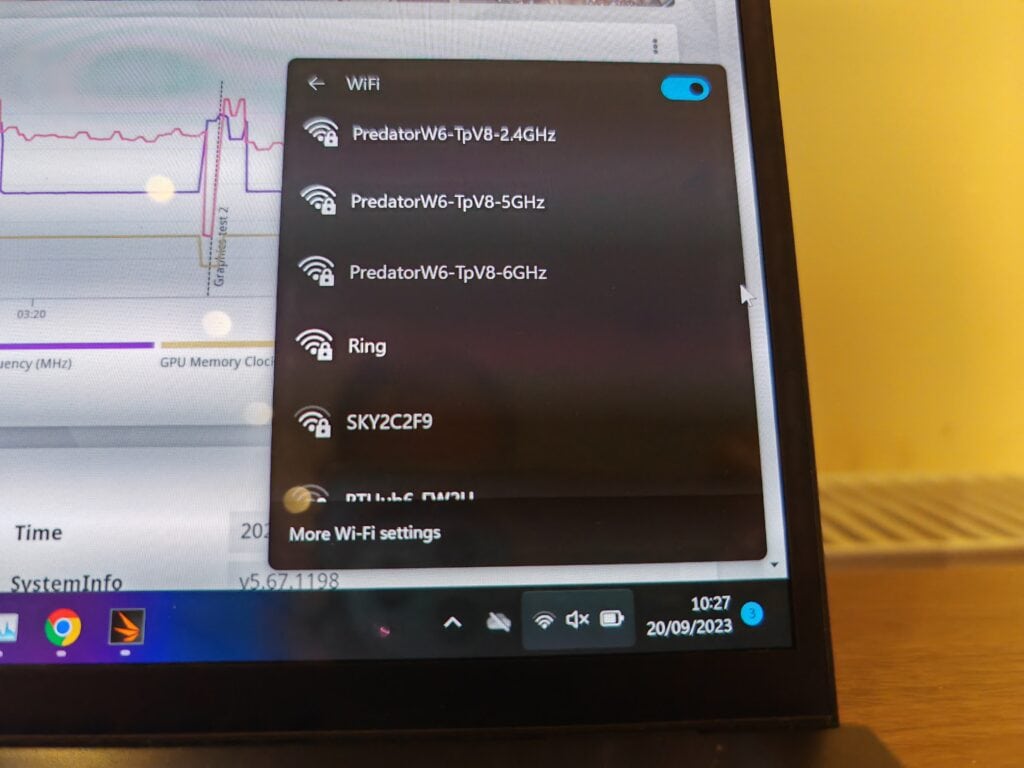 The performance evaluation of the Acer Predator Connect W6 router is dissected across various bands and scenarios. The router's marquee feature is its support for Wi-Fi 6E, facilitating access to the new 6GHz band. This band propels a maximum bandwidth of 2402 Mbps with a 2×2 MU-MIMO on 160MHz channels. The 6GHz band's charm lies not in superior throughput but in its ability to offer more channels with 160MHz, reducing congestion and ensuring robust encryption with WPA3. The router was tested using a Virgin Media Gig1 for internet speed, and LAN speed testing with iPerf and LibreSpeed, hosted on a TerraMaster F4-422 10GbE NAS running Unraid and connected to the EnGenius ECS2512FP with 10GbE. The devices for testing included a Desktop PC with an AX210 Wi-Fi 6E PCIe Card, Huawei Matebook 14 with AX210 Wi-Fi 6E module, Acer Swift Edge 16 with Qualcomm FastConnect 7800 Wi-Fi 7 Chipset, and Samsung Galaxy Z Fold 5 with Wi-Fi 6E. The tests were conducted in varying distances and through solid barriers to evaluate the range and throughput.
The Wi-Fi 6 5GHz band, operating under the 802.11ax standard, delivers a bandwidth of 4804 Mbps in 4×4 connections on 80MHz channels with 1024-QAM modulation. However, the router limits the 5GHz channel to 80MHz, whereas competing routers offer 160MHz, which can potentially offer higher throughput.
The router also supports the 2.4GHz band under the 802.11ax standard, delivering a maximum of 574 Mbps through a 2×2 connection with options for 20 and 40MHz channels.
Furthermore, the router extends its wings to Wi-Fi 5 devices, offering backward compatibility. This ensures that even if your devices do not support Wi-Fi 6E, they can still tether to the router and benefit from improved performance. The Wi-Fi 5 on the 5GHz network at 80Mhz with 2×2 MU-MIMO offers a theoretical throughput of 866Mbps.
Price and Alternatives
Priced at £299 and available from the Acer Store, the Acer Predator Connect W6 Wi-Fi 6E Router finds itself in a competitive landscape. A quick scan on Amazon for comparable routers with the AXE7800 specification reveals a variety such as the ASUS RT-AXE7800 priced at £204, the Netgear Nighthawk RAXE300 at £298, and others like the Amazon eero Pro 6E router and TP-Link Archer AXE75 priced at £250 and £145 respectively. These alternatives present different specifications, price points, and features, offering a rich selection for different user preferences.
Conclusion
The Acer Predator Connect W6 Wi-Fi 6E Router carves a niche for itself in the market with a blend of performance, features, and a competitive price point. While it may not be the top dog in terms of specifications among Wi-Fi 6E routers, it certainly isn't lagging far behind. The absence of 160MHz channel width on the 5GHz band could be a drawback for those seeking the pinnacle of Wi-Fi speeds for LAN transfers, but the gaming-centric QoS and complimentary access to Trend Micro network security are commendable feathers in its cap. The router's performance across various bands and scenarios demonstrated its capability to handle modern-day networking demands efficiently. The Acer Predator Connect W6 emerges as a well-rounded choice for households, especially those with a penchant for gaming, offering a balance of performance, security, and affordability.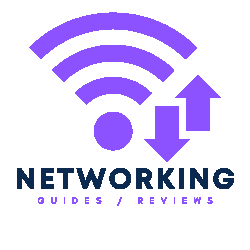 Latest posts by Paul MacMillan
(see all)